Cherryfield, 2000
Alternative view: Slide Show
Cherryfield, Maine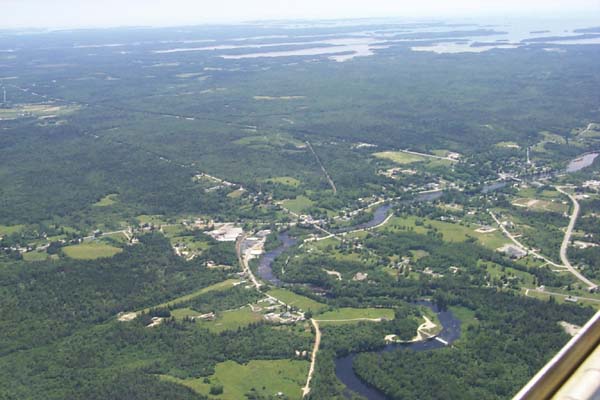 Blueberry capitol of the world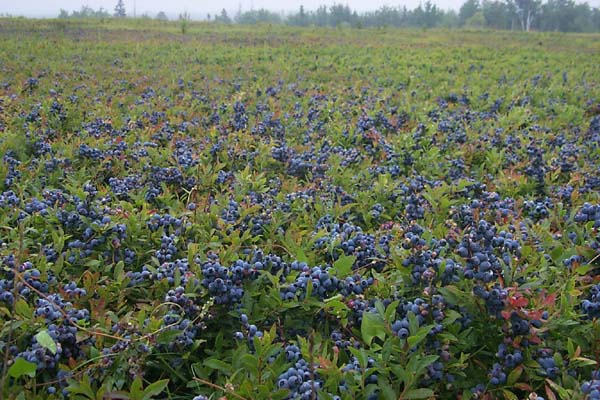 That's our house, almost bottom center.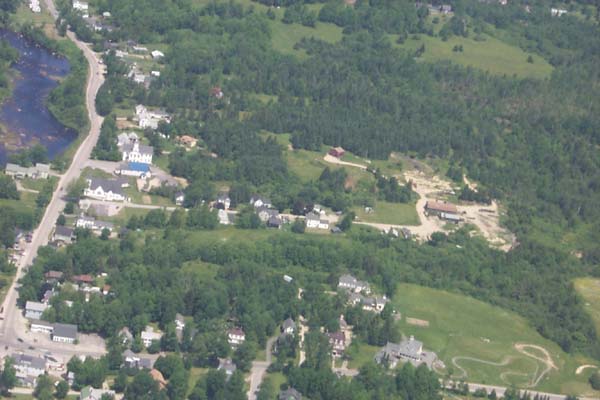 It's the one that looks like this.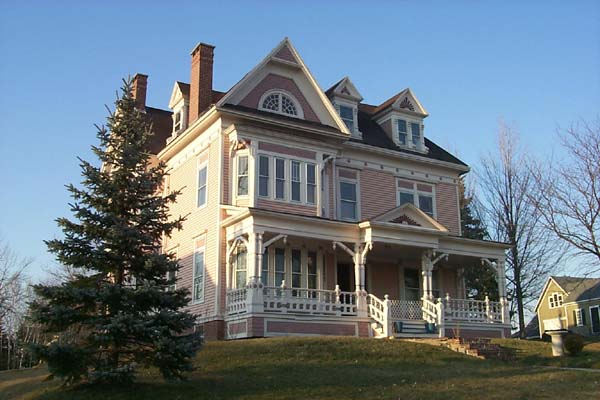 Note the two buildings just over the bridge to the left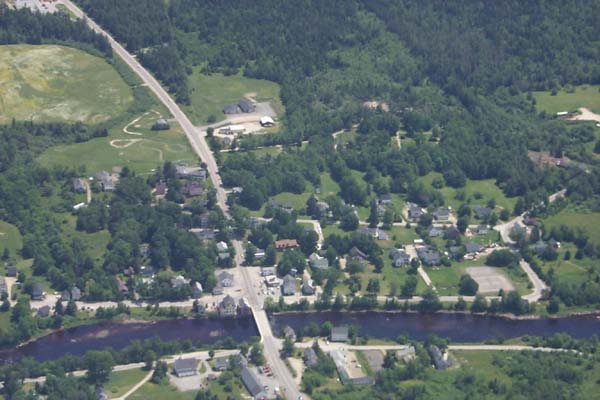 Here they are from ground level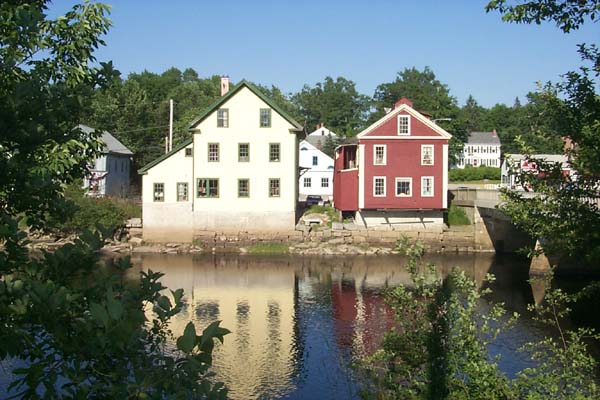 Every evening we walk up one side of the river and down the other.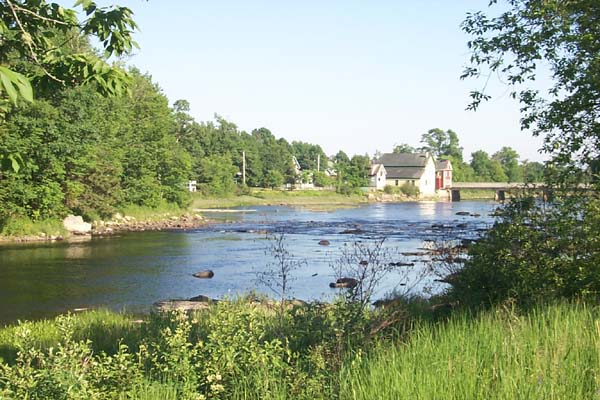 This river use to be GREAT for salmon fishing -- they're coming back.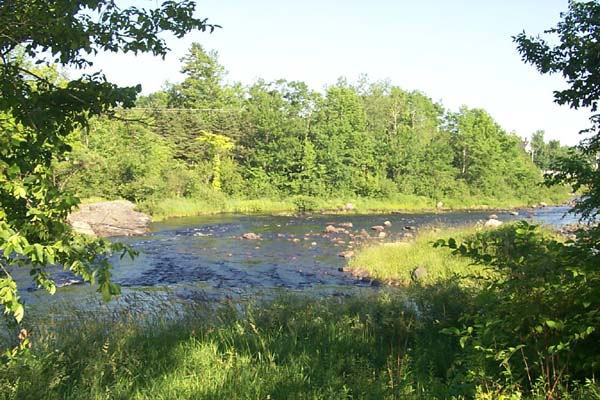 Here's June with Alan and Marty on the bridge at the north end of our walk.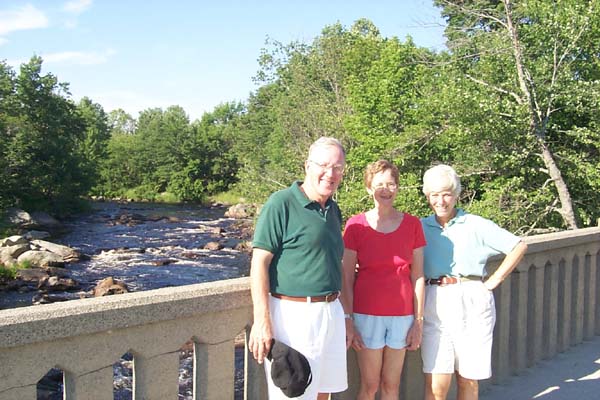 The river, viewed from that bridge.

Here's the dam in Cherryfield, a little further up the river.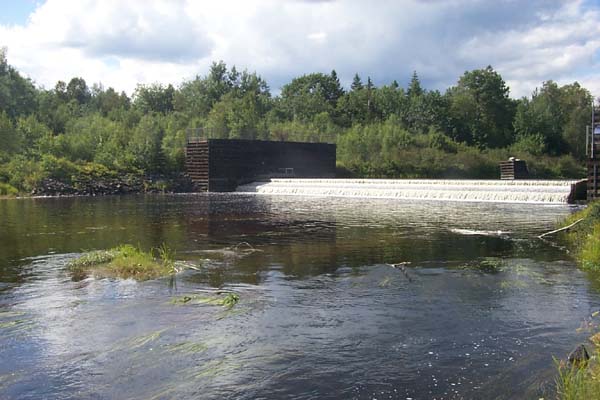 Heading down river you find Milbridge where ...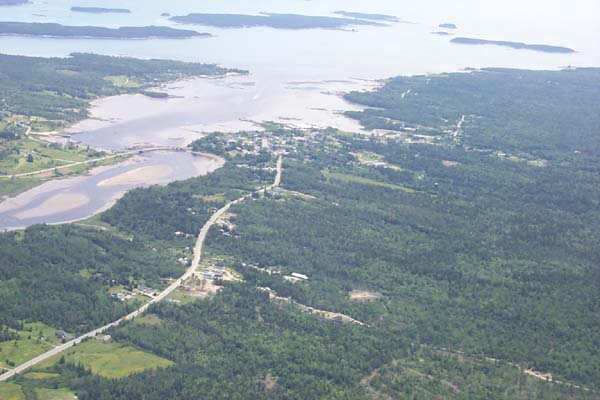 Bruce and Kathy live. Here we join them ...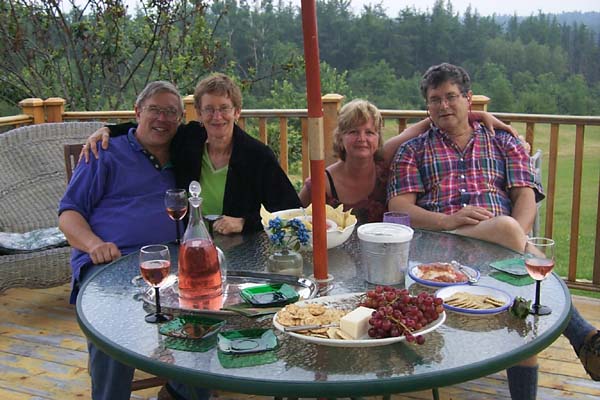 for cocktails with Marty and Alan.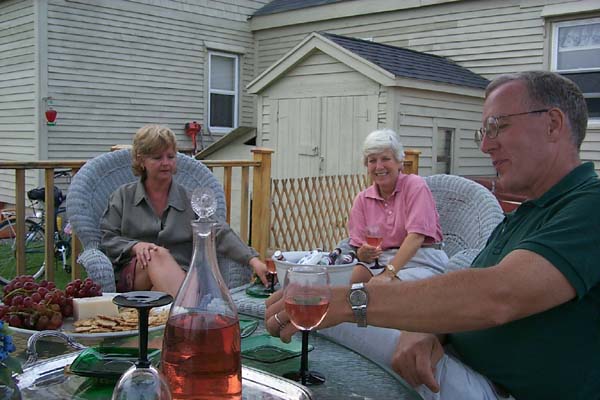 June REALLY likes the ...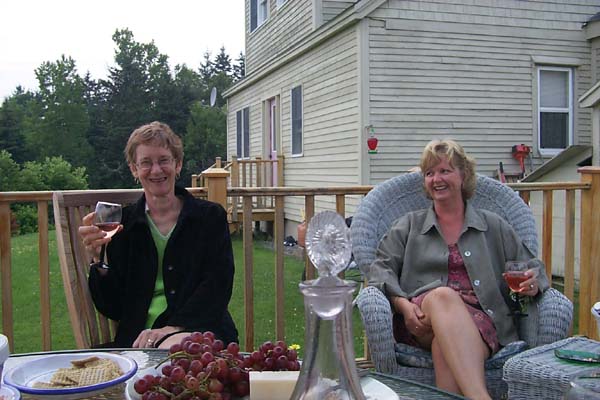 view from their deck.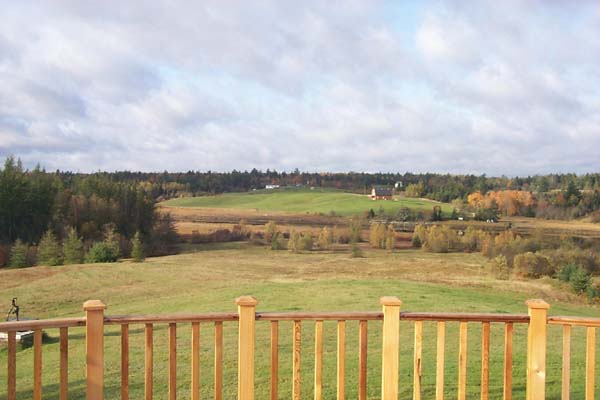 and the goodies aren't bad either.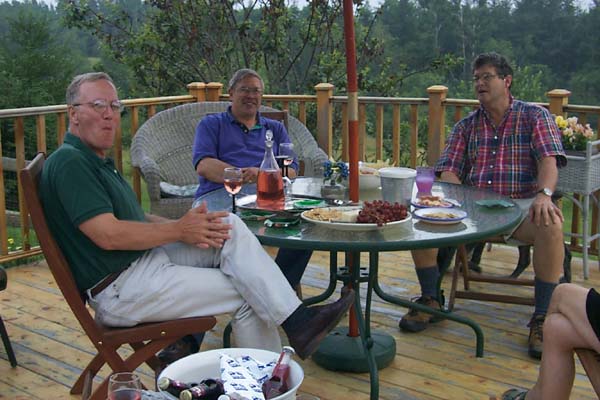 If we forget to call the lobsterman who delivers,
we head over here to the lobster pound.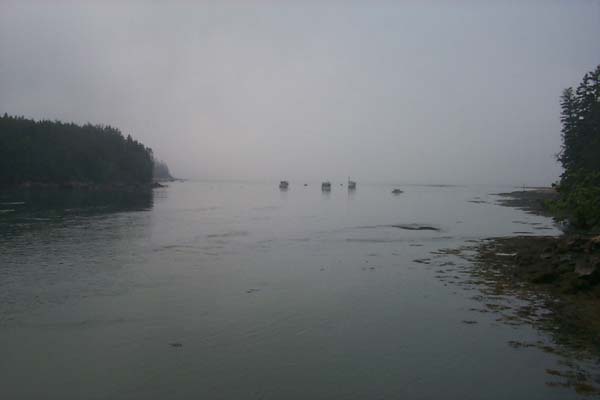 These pictures were taken flying up the coast on July 13th.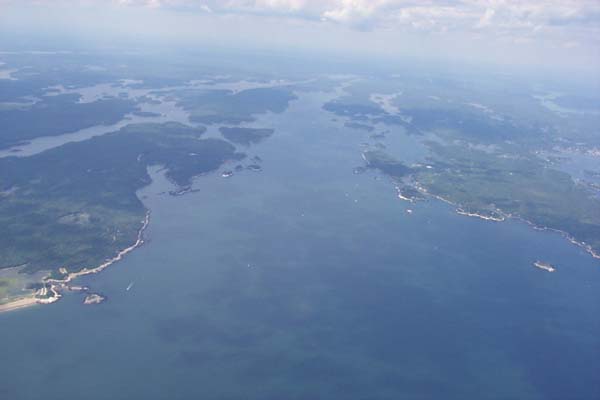 Even driving up Route 1, you miss most of the coast.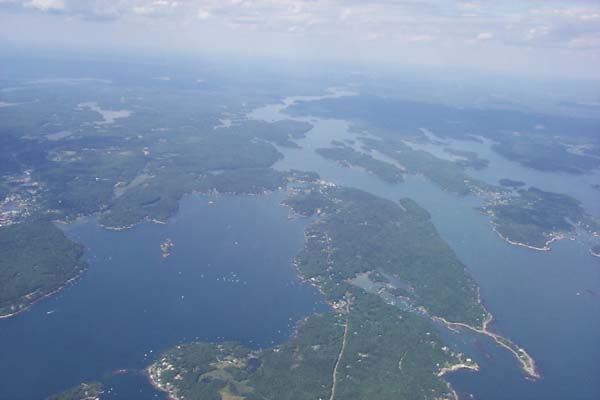 Most of it is down all these peninsulas.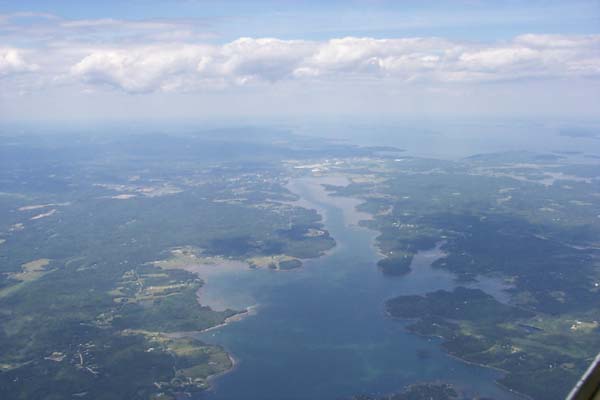 There's the airport at Rockport.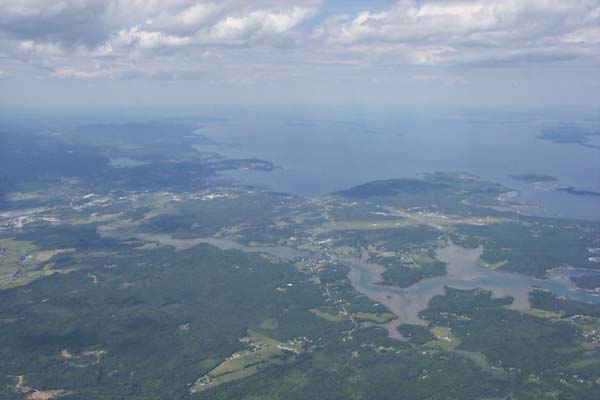 Here's the view from Pigeon Point, just west of Milbridge.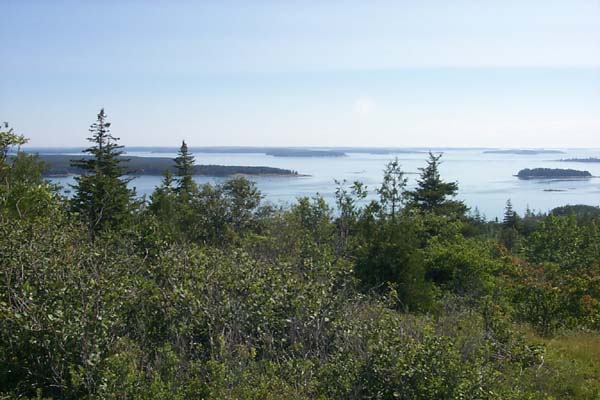 You can see a fisherman coming back in.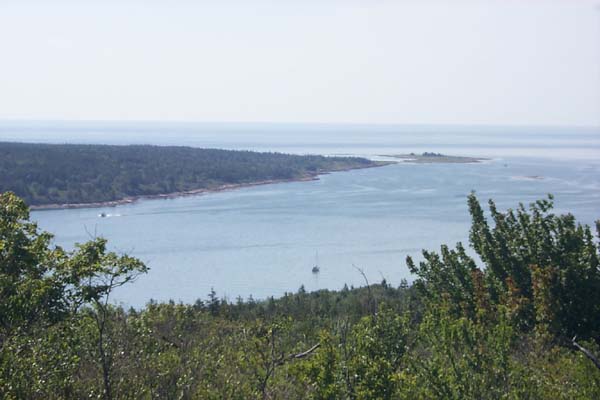 Here's the beach in Milbridge, it's not very sandy.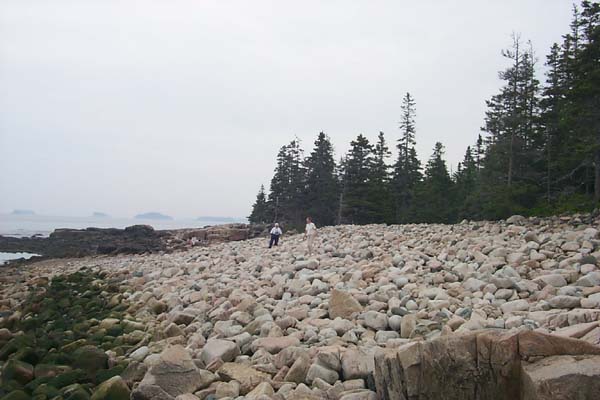 Looking back the other way.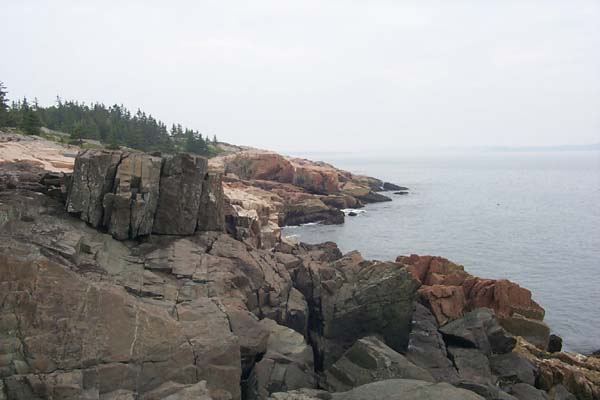 Who knows who you'll run into along here.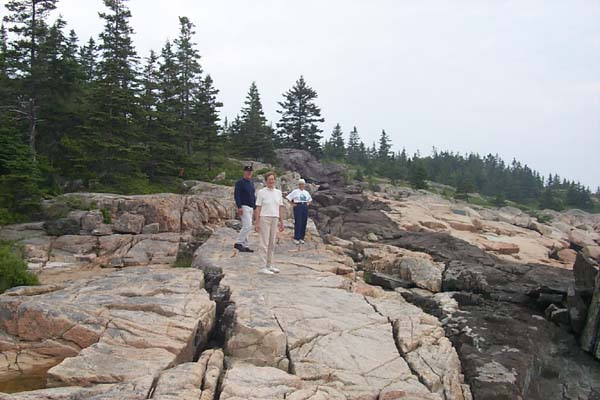 A few miles west is Schoodic Point.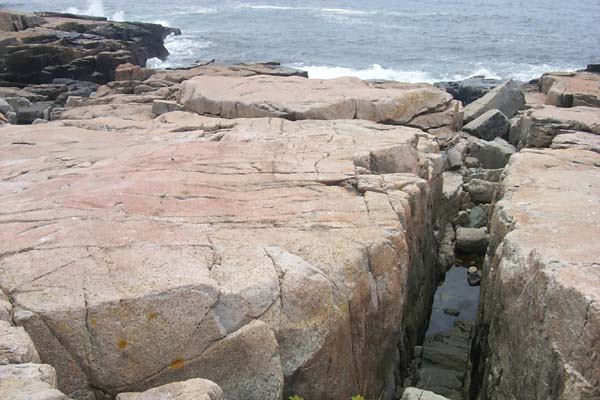 Where the tourist's in the know show up.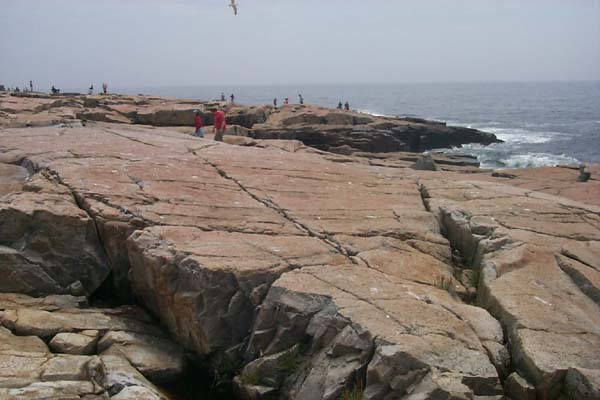 Here's one now.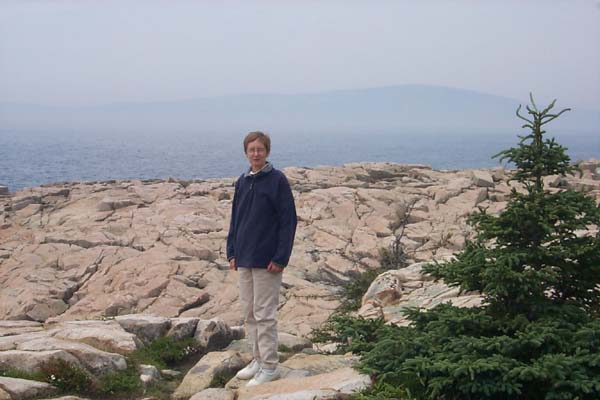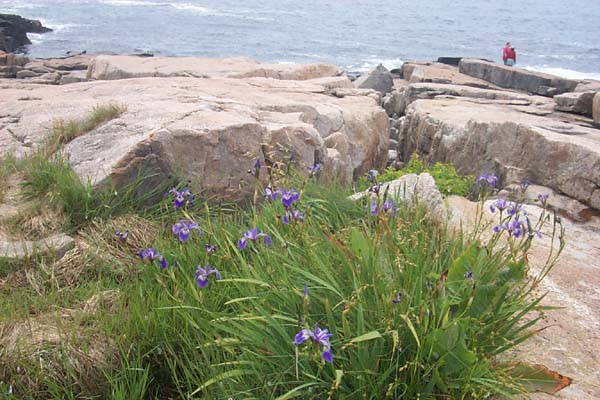 I really love the Maine coast, on both foggy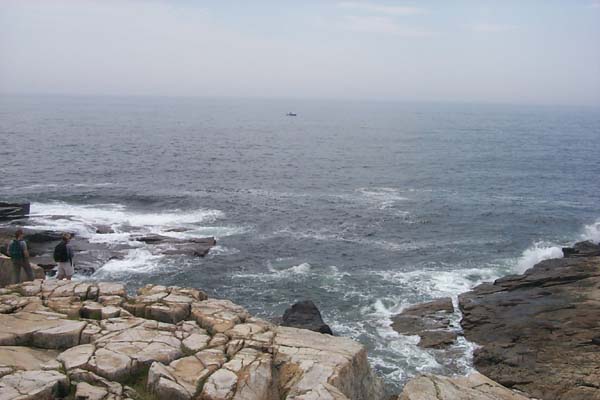 ... and sunny days.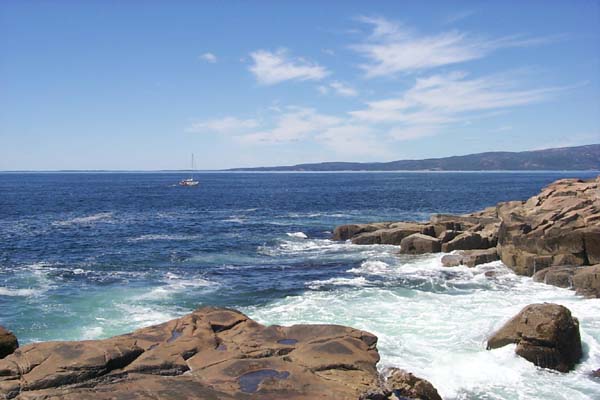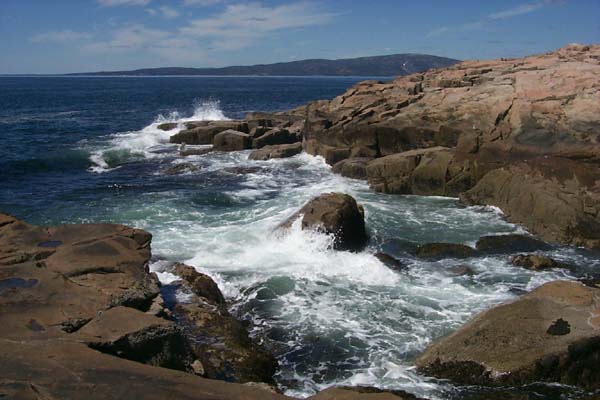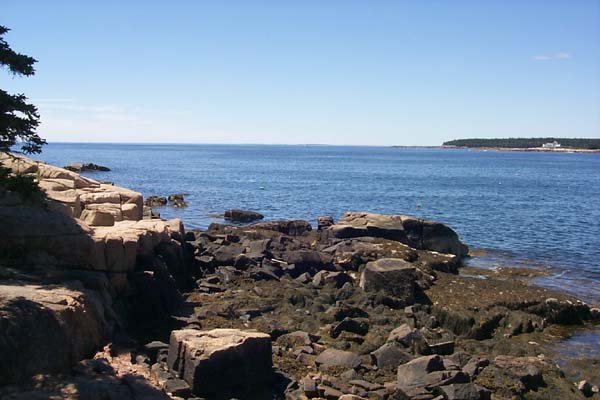 Heading east from Cherryfield, the next town is Harrington.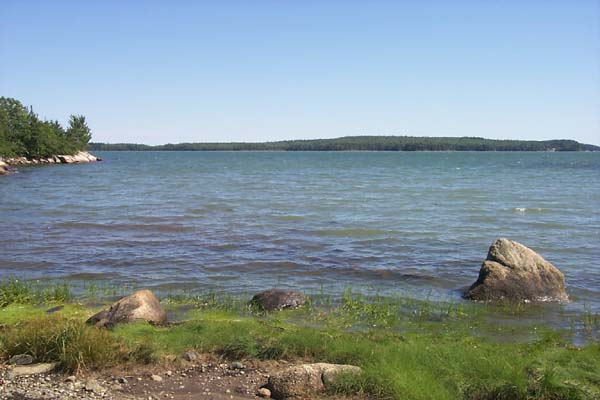 Then comes Addison; here we're looking down at the Pleasant River.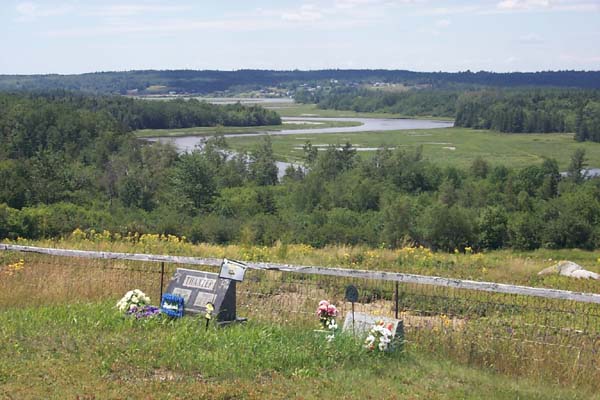 And a little further, here we are along the coast ...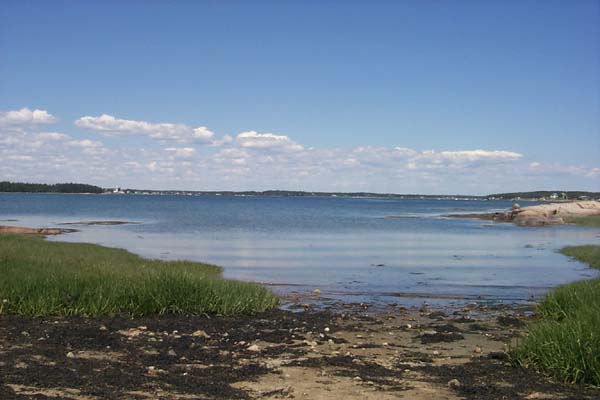 of Beal's Island.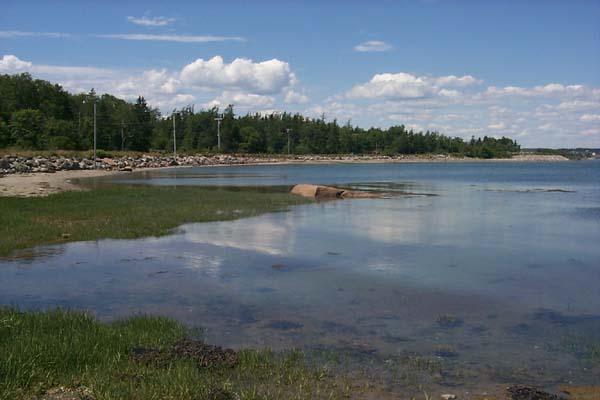 There's a boat ramp in almost every town.
They're very steep because our tides are over 12 feet.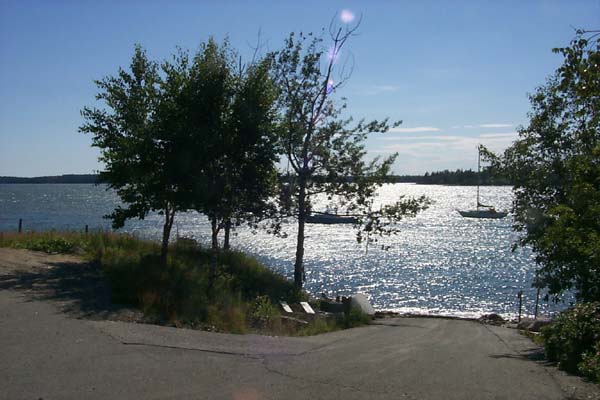 People keep their boats anchored in deeper water. And as you
see they use clothesline pulleys to keep their dinghys afloat.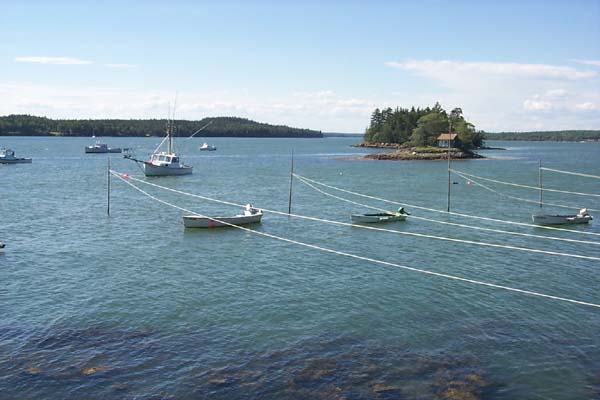 Over where the sun comes up in the US is the town of Eastport.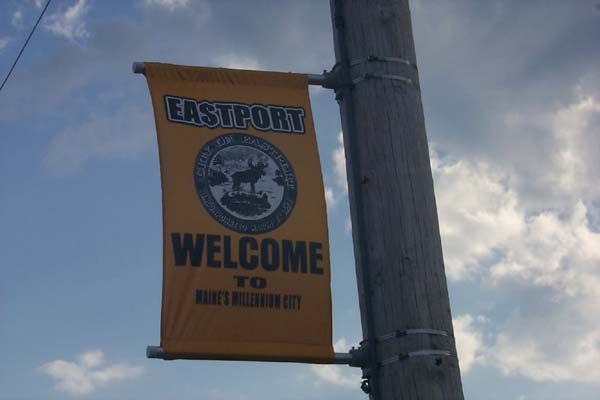 Which still has quite a fishing fleet.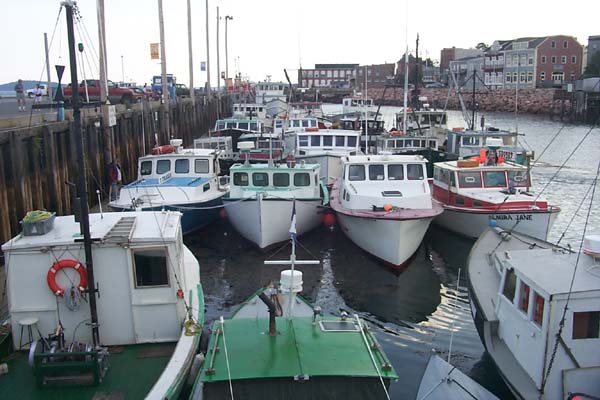 The Coast Guard keeps a boat here.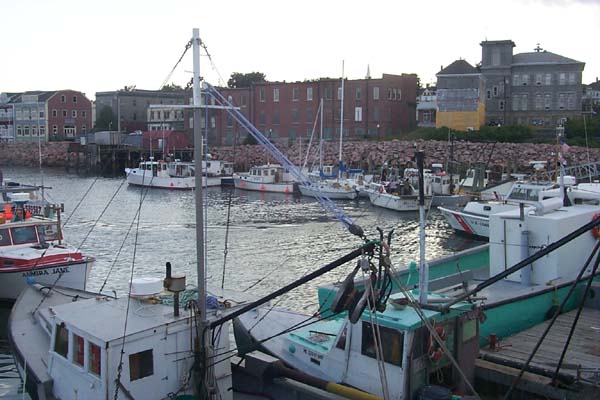 They teach them to fish from an early age ...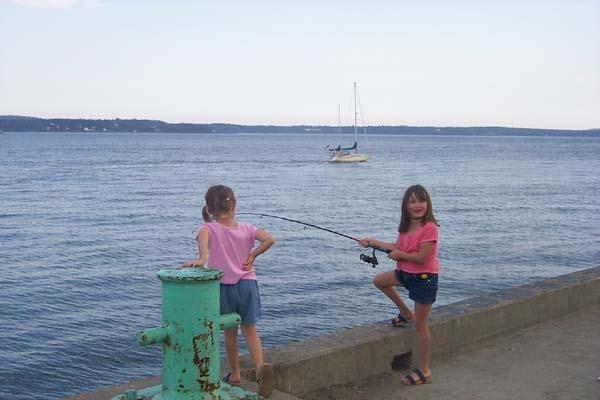 She just caught a sole (of shoe). She didn't think it was as funny
as I did, and really didn't appreciate my taking a picture of her catch.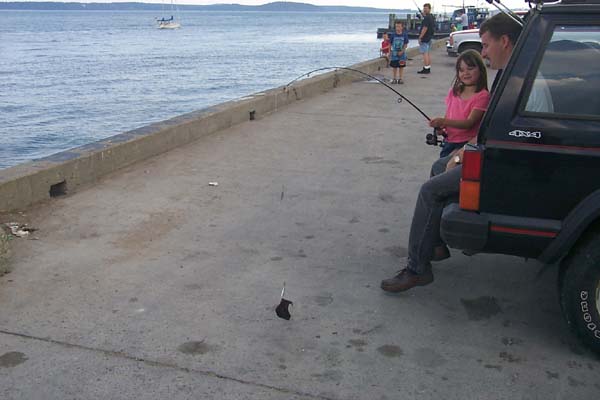 Close by is Campobello Island, Canada where FDR's
summer "cottage" (34 rooms) is located.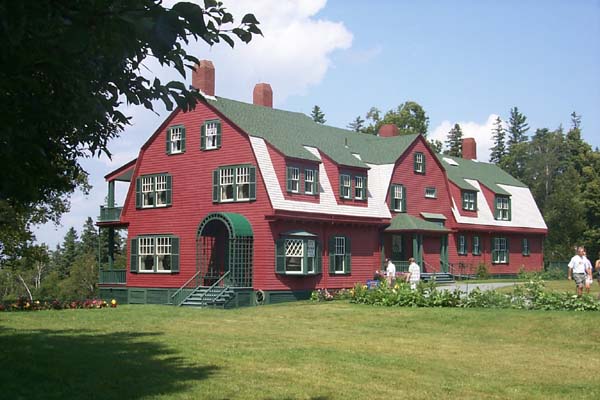 At the end of Campobello is East Quaddy Light. You can only
get there on a low tide (now we're talking 22-28 foot tides.)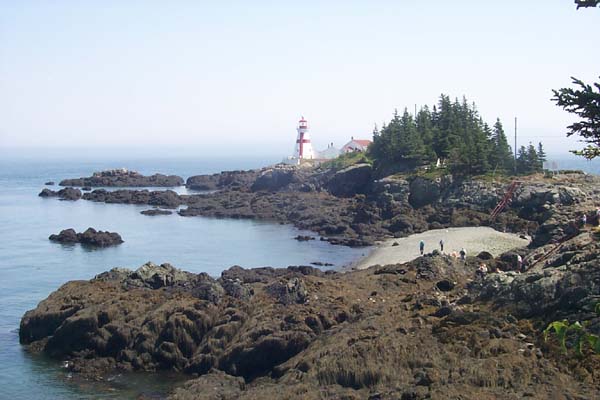 Access is up and down steel ladders, ...

across three islands.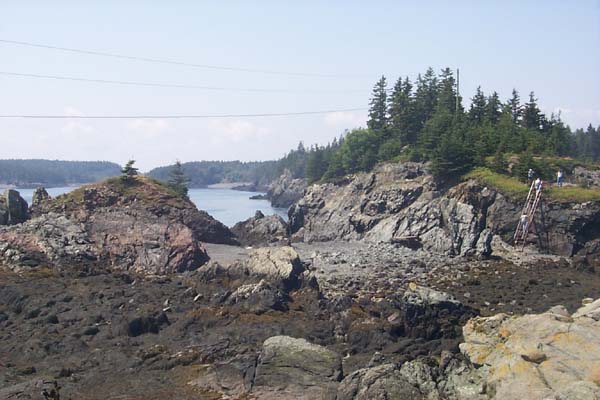 Doesn't look like something you would see at a US tourist spot.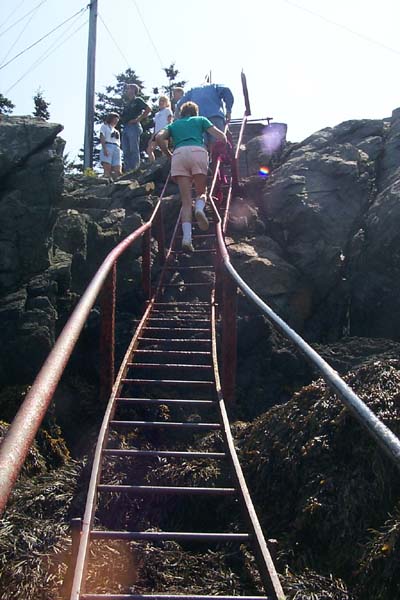 We're getting closer.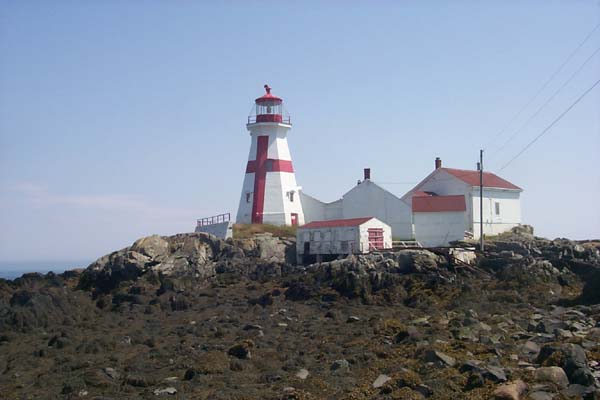 June better watch out, she's about to get run over.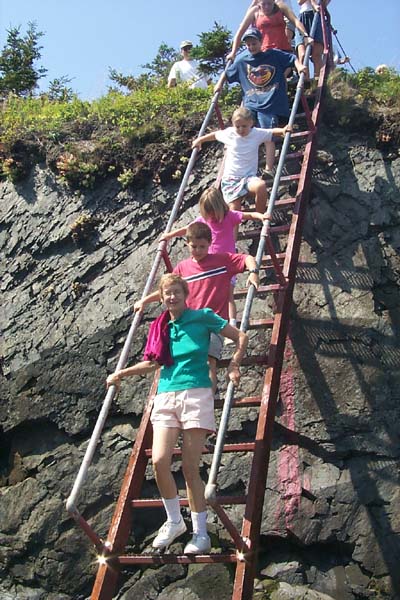 Here's Walt Smith headed up.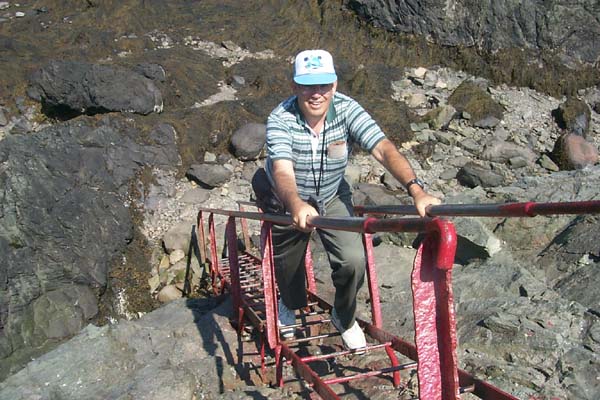 Here's what the 28 foot tide looks like when it's coming in at St. Andrews.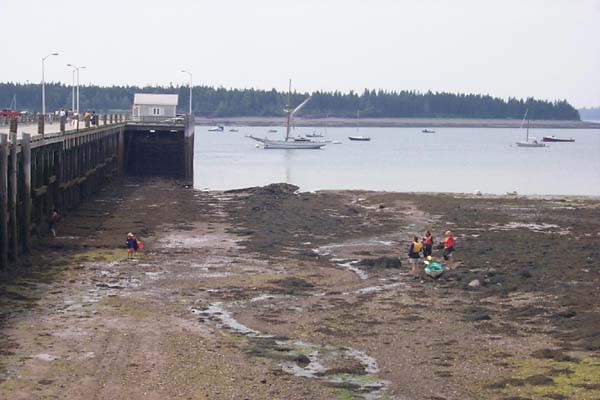 Back in the US is West Quaddy Light.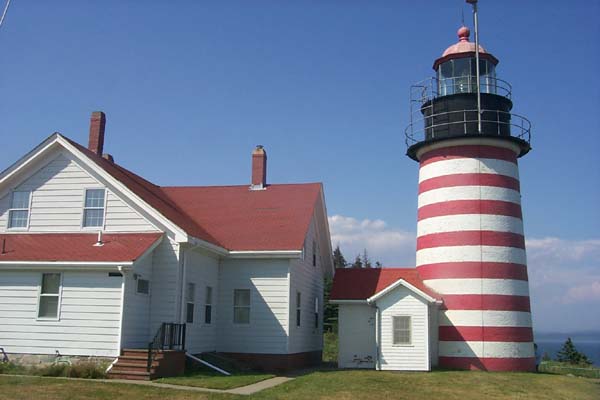 Fall is coming to Cherryfield.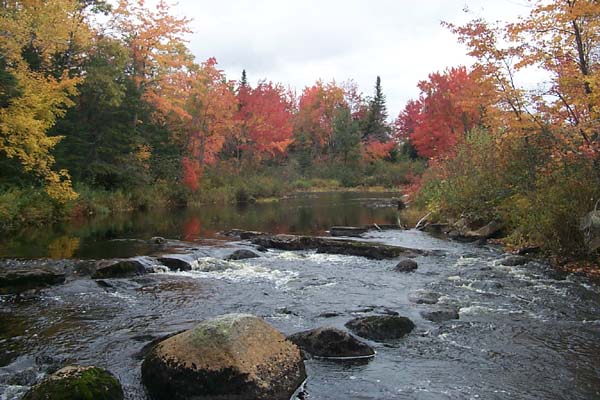 Here you can see the strings across the cranberries to mark each raker's lane.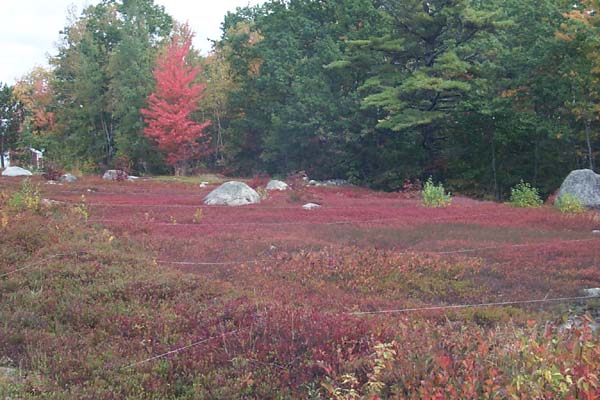 Soon it's going to be time to head south.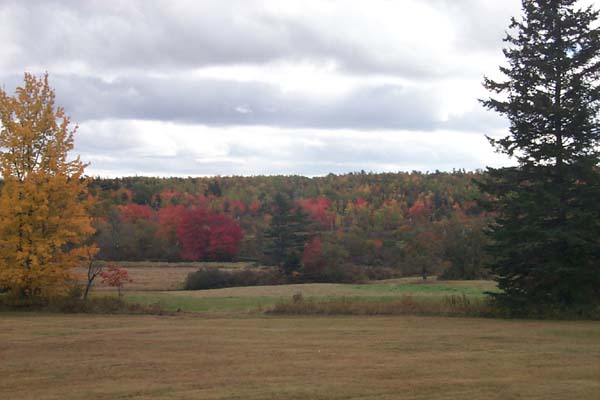 The last hike up Pigeon Hill for this year.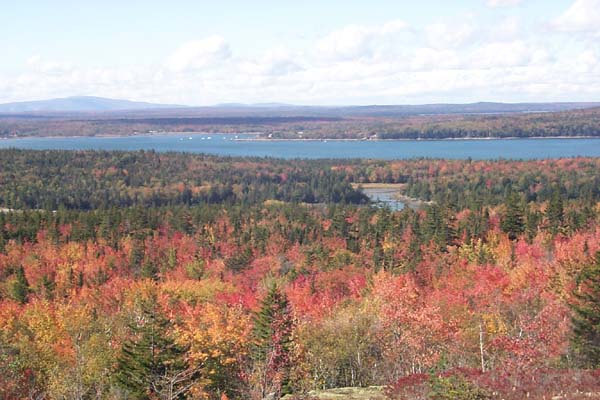 13779